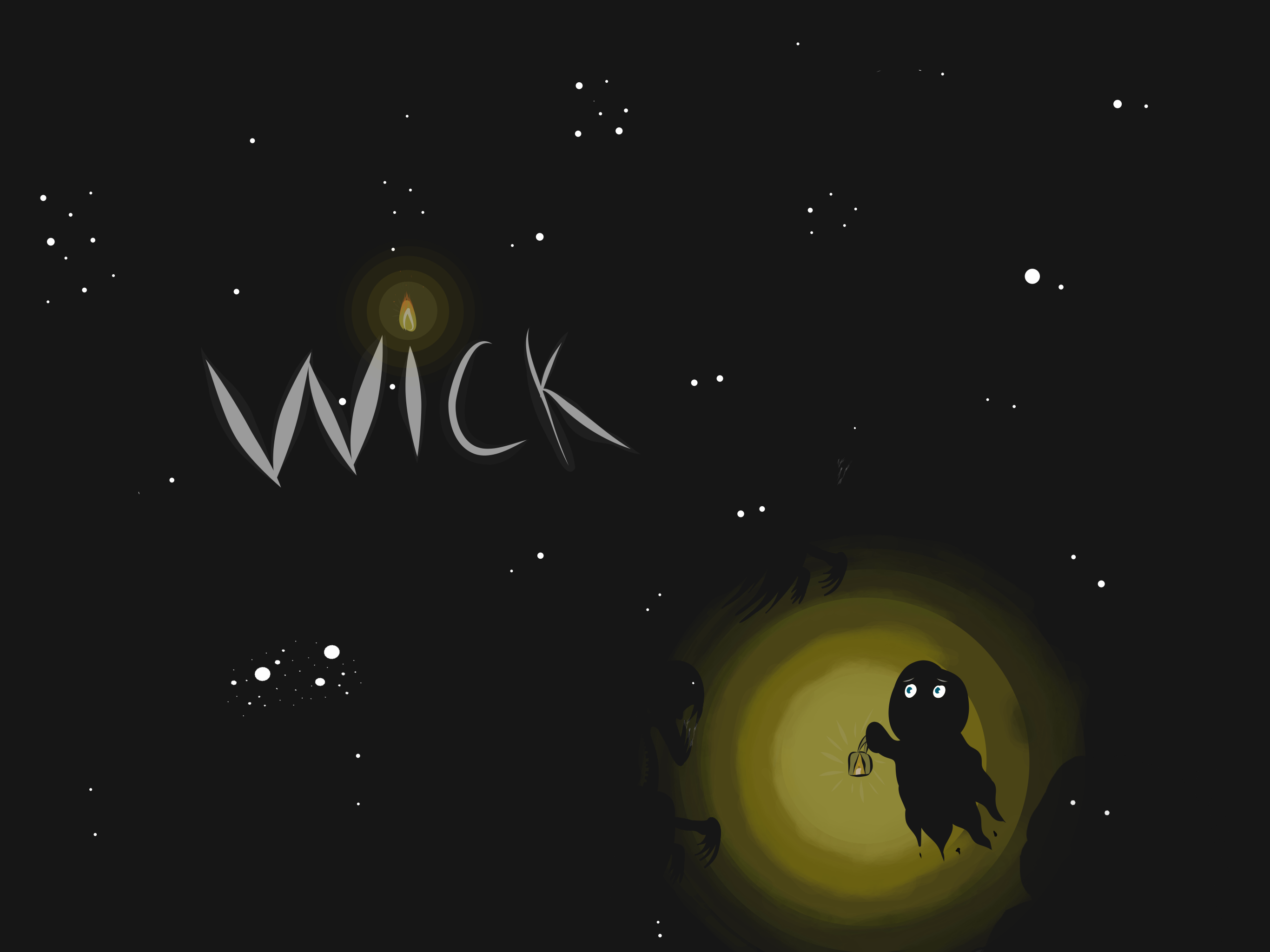 Wick
Wick is a 2D top-down horror game.
Follow the story of Charlie, a young child who every night suffers from sleep paralysis.
This time, they have decided to face their nightmare, and battle the creatures and monsters of the night with a lantern.
Fight enemies with light, reach safe rooms to regain your sanity, find story collectables, and reach the end of each level!
Features:
3 Unique Levels
5 Unique Enemies
25 Collectable Story Items
2 Modes for the Lantern
Safe Rooms to regain your sanity
Lantern Oil Pickups
This game is being developed as part of our Studio 2 unit at SAE in Sydney.

The focus of this module was to explore 'meaning' in games. Our team decided to focus on Sleep Paralysis, and how the upbringing and the experiences of the protagonist led them to having these nightmares.
Team:
Project Lead & Programming - Jesse Smart
Facebook: https://www.facebook.com/Dried-Mango-Games-2286535794702133/? /ref=py_c
Website: https://jesseoscarsmart.wixsite.com/portfolio
Portfolio: https://www.canva.com/design/DAC7nigNJ4U/RQ4tAHoLKtnv7VCIR0EwsQ/view?utm_content...
Lead Artist & Audio Design - Adam Coote
Instagram: https://www.instagram.com/adamartking/
Website: https://adamsfaceystuff.wixsite.com/adamcoote
Lead Level Designer & Music Design - Albert Latham -

Twitter: https://twitter.com/SpicySpaceCat

Website: http://lathamkatze.wixsite.com/albertlatham
Lead Writer, UI Designer and Art - Stephen Willadsen Twitter: https://twitter.com/Venetus_Ari

Website https://sites.google.com/view/stephen-willadsen-game-dev/home
SPOILERS:
If you would like to see Wicks Ending without playing the game, watch the video here!
Changelog:
Wick 2019 V 1
-Search Circle Bar
- R prompt for reload
- Change "options" to "Controls"
-Fix arm sprite at the start of level 1
-AI not able to enter start and ending rooms on each level
-Implemented ending cutscenes
-Adjusted scene switching between levels
-Fixed an empty room sometimes spawning level 2
-Fixed searching through walls
-Added in a bear to each safe room
-Fixed light focus when lantern is empty
-Adjusted the final swarm on level 3
-Trigger boxes renderers disabled
-Fixed door spawning issues
-Updated eye sprite
-Fixed being able to walk through certain walls
-New story item sprites
-Audio reverb dramatically changes when sanity is low
-Disabled dev controls
-Level 3 flow and progression has been fixed
Wick 2019 V 0.3
-Blocked enemies from entering safe rooms
-Updated lantern oil UI sprite
-Added in search mechanic
-Fixed double door issue
-Added audio for slugs
-Added in intro sequence on level 1
-New control screen added
Wick 2019 V 0.2
Since the last build we have added in:
-Loading screens
-Title Screen Music
-Fixed spiderling AI
-Added in Swarm to level 3
-Added more variety and 'life' to room prefabs
The background gif is not owned by our team, and was retrieved from https://gifnews.tumblr.com/post/99935856295 All props to the original creator, and if it is asked to be taken down it will be.
Install instructions
-Download the Zip File
-Once downloaded, open the Zip to find the Wick folder

-Extract to desktop

-Open Wick folder and run the Unity application called "WICK19T1Studio2Group1"
-Ensure graphic quality is set to at least high

Comments
Log in with itch.io to leave a comment.
Too scary, I had an anxiety induced seizure playing this. Reduce the amount of water in the level, I'm hydrophobic
Unfortunately the game was very jumpy unresponsive and eventually crashed.
I like the concept - the directions for downloading aren't clear enough - the download button itself could of been bigger and closer to the top of the page.
Was warned before that the sound was loud on start up.
Music and sound effects where good.
The sudden need for the E key wasn't clear in the instructions - directions on how to play where very plain and there is no direction to use the options menu
I'm not a gamer so for me I was quite lost - I don't believe you should just presume that someone playing your game is a seasoned gamer.
But over all I liked it :)
Game seemed a bit too linear for me.

Found it very easy, i didn't search for lantern oil at all in the end and just ran down looking for the end. the enemies weren't very tough and could be handled with a tap of the light on and off.

An options screen would have been nice, the volume was way to loud and had to turn my whole computer down to not get blasted.

I didn't really understand the story apart from the fact that it was some kind of nightmare.

very interesting concept though! thanks for making it.